The energy sector is currently experiencing a period of upheaval and change. Strong growth is underway and "Power to X" has become omnipresent.
Power-to-X (PtX) is a technology that converts electrical energy from renewable sources such as solar and wind into other forms of energy or fuels. The process involves the electrolysis of water to produce hydrogen, which can be used in fuel cells to generate electricity or to produce synthetic natural gas or fuels such as methanol or ammonia. PtX plays an important role in the green transition by enabling the storage and use of surplus electricity and contributing to the decarbonisation of sectors such as transport, heating, and industry. According to Arbejderbevægelsens Erhversråd and IDA, PtX will create 22,000 jobs in Denmark by 2030, which is supported by IDA's latest forecast of labour shortages in Science, Technology, Engineering and Mathematics (STEM).
With the rapid development and implementation of these new forms of energy, skilled professionals will be needed to navigate this complex sector and to drive innovation forward. It is crucial to have leaders who can manage the transformation taking place, as well as specialists with expertise in most engineering disciplines.
This disruptive time in the energy sector presents a unique opportunity to shape the future of sustainable energy. With the right skills and knowledge, we can work towards a more efficient and environmentally friendly energy supply. Therefore, it is important to invest in education and talent development in the energy sector to meet the new challenges and opportunities that come with this revolutionary development.
In this article, we present seven effective strategies that organisations in the green energy sector can use with confidence to attract and retain top talent. Based on our dialogue with our clients who are key players in the market, we are convinced that these strategies will be crucial to success in the battle for energy specialists:
1. FIND CANDIDATES IN OTHER INDUSTRIES
Expand the search box and consider candidates from different industries who potentially possess transferable skills. This is crucial as many companies are competing for the same talent. For example, recruit candidates with experience in district heating and fossil fuel power plants or from manufacturing companies who may have relevant skills and knowledge that can be applied and adapted to the energy industry's new technology areas.
By thinking more broadly and recruiting outside the traditional talent pool, companies can gain a greater diversity of skills and perspectives. This can be an effective strategy for securing sufficient labour and driving innovation in the rapidly evolving energy sector. To implement this strategy, it can be beneficial to work with a recruitment partner who works across multiple industries and can bring external insight and understanding of the energy sector's challenges.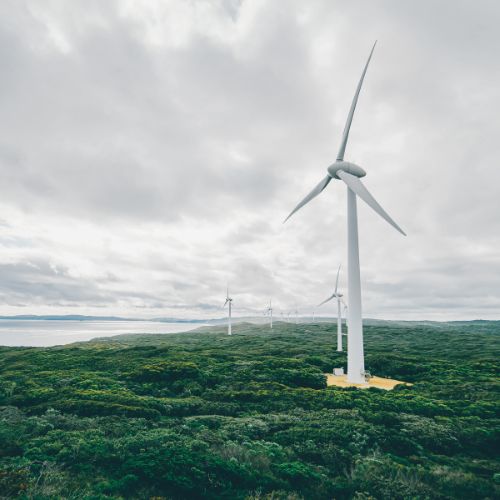 In 2021, the Danish sector's green financing reached 548 million DKK, while we are also seeing more green financing and investment products. There is no doubt that sustainability has made its way into the financial sector – and we have probably only seen the tip of the iceberg.
The green agenda has attraction value for investors, clients and candidates
2. COMMUNICATE YOUR WHY
It is important for companies to communicate their WHY and to clarify to potential candidates how they can be a part of the organisation's success. It is necessary to be open about the organisation's mission, vision and goals and demonstrate how the individual can contribute to these. An example of a company which actively works with this in their employer branding strategy is our long-term business partner Semco Maritime A/S.
At Semco Maritime A/S, their focus is to execute and act as an action-oriented organisation. They understand the difference between the circle of control and the circle of influence, as they cannot control education or research programmes. "We need to stick to our basic DNA and our own processes in Semco Maritime A/S," says Mikkel Stephansen, HR Business Partner & Talent Acquisition at Semco Maritime A/S. This focus on sticking to what they can control is an important part of their approach.
By being transparent about the company's goals and values and clearly showing how each individual can contribute, organisations can attract candidates who share the same vision. This creates a strong connection between employees and the company's purpose and can help build an engaged and motivated team.
3. DEVELOPMENT OPPORTUNITIES
Development opportunities are crucial to attracting and retaining talented employees. It is important to offer solid opportunities for skills development, a clear career path, training and education so employees can continue to grow and feel motivated. This does not have to be MBA programmes; it can also include specific areas such as project management, IT or even the use of artificial intelligence in the workplace. By investing in employee development, your organisation shows that it is committed to strengthening their skills and advancing their careers. This helps to create an inspiring and dynamic work environment that attracts and retains talented employees.
4. ATTRACTIVE WORK CULTURE
Having an attractive work culture and offering flexible working conditions is crucial to attracting and retaining talented employees. A workplace that prioritises well-being, collaboration and development is very attractive to applicants. It is important to combine this with flexibility in working conditions. This is increasingly important with the influx of younger candidates who take this for granted. Make sure to offer employees flexible working hours and the ability to work from different locations according to their preferences. It is also important to establish an internal process that ensures a smooth implementation without compromising the coherence of the organisation.
Clear communication and the ability to work from home is essential. This includes defining days when all employees must be physically present, and possibly a core period between 9am and 3pm, with flexibility outside of this time.
By combining an attractive work culture with flexible working conditions, the company attracts and retains top talent. This creates a competitive work environment and increases the company's ability to adapt to the changing demands and needs of the energy sector.
5. WAGE COMPETITION
When demand is high, it is inevitable that companies need to offer a competitive salary to attract talented employees. While the salary element can be difficult to change due to salary bands and the often lower salary levels of existing employees, consider alternative solutions such as bonus schemes, profit-sharing and option agreements. These incentives can help both attract and retain talented employees. It is important to recognise that salary pressures have increased due to the very high employment rate in the wake of the supply crisis, inflationary pressures, and the COVID-19 pandemic. However, salary should not be the only reason your new colleague is motivated, although for most people it is an essential part of working life, and an extended canteen scheme is unlikely to make a colleague stay if other things are getting in the way and another company is offering a higher salary.
It is also worth paying attention to existing employees. Claus Mengel-Niemann, Senior Consultant at Compass HRG, says: "Don't bring people in through the front door while the existing ones leave through the back door." He emphasises the importance of focusing on retaining existing employees, as this can be just as crucial as recruiting new ones. By creating good working conditions, a safe working environment with mutual trust and recognition for current employees, you can help reduce employee turnover and build a strong and stable team.
6. GO INTERNATIONAL
To address the shortage of skilled labour, companies can go international and attract specialists to Denmark. This requires establishing solid internal processes and changes, such as ensuring that all internal communication is also in English to support the recruitment of foreign candidates. It is important to recognise that recruitment often involves the whole family, where it can be crucial to ensure their wellbeing and integration as well. Companies can help candidates by taking responsibility for CPR and bank account registration and possibly temporary accommodation.
Involving Danish employees in a buddy scheme and working with specialised service providers can also be helpful. There are also benefits to being able to offer lower taxation through the researcher tax scheme. By looking internationally and supporting foreign employees, companies can attract and retain international talent, which can enrich the workforce and contribute to growth and innovation.
What is the tax scheme for researchers (forskerskatteordningen)?
The tax scheme for researchers is a Danish tax scheme that allows researchers and developers to pay a lower tax rate on their income, provided they meet a certain salary level and other conditions. The scheme aims to attract and retain skilled researchers and technological talent in Denmark. Read more about the researcher tax scheme at skat.dk.
7. EDUCATION
An obvious approach is to increase the number of well-educated graduates, but this is a challenge for individual companies, as the education system is mostly controlled by the state and municipalities and there are some long prospects for real effects. Nevertheless, several of our clients are showing a willingness to work with universities to create new educational opportunities. One example is the new PTX (Sustainable Energy Engineering) programme at Aalborg University in Esbjerg.
Although it will take some time before we see concrete results, it is important to put pressure on educational institutions and industry associations to take care of the political part of this work. So, use your company's voice and make your influence felt.
The article continues below the picture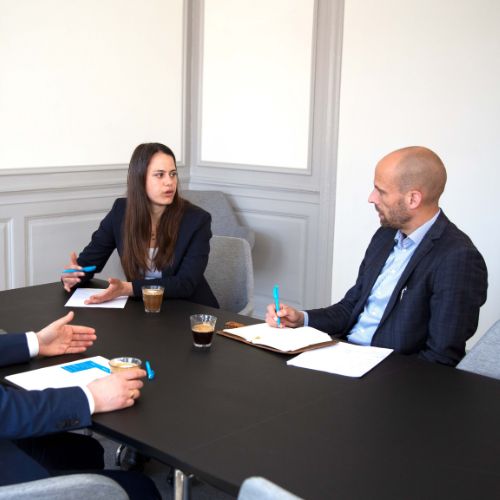 In recent years, the labour market has changed significantly for both employers and employees. This makes it necessary to change the way in which skilled employees are recruited and retained in several industries. Fresh eyes and a new strategy is needed.
The transformed labour market and the fight for the candidates
To ensure a long-term strategy, it is important to start in primary school to spark interest in science subjects. That is why companies are already being invited to visit primary schools to inspire students and show them how exciting a career in science can be. So, invite local schools to visit your company or organise a talk at one of the educational institutions in your area – again, influence where you can!
The green energy sector is a crucial and rapidly growing industry where the competition for the best specialists is intense. By implementing some of the above strategies, organisations in the energy sector can increase their chances of attracting and retaining the best talent to contribute to the green transition and sustainable development.
It is crucial to embrace these strategies as an integral part of your organisation's talent management efforts. By investing in a competitive salary package, clear career paths and development opportunities, you can create an attractive work environment that attracts the most talented candidates. At the same time, a flexible work culture and open communication about the company's vision and goals can help motivate and engage employees.
Ultimately, the battle for energy specialists is about building and retaining a dynamic and innovative team that can meet the energy challenges of the future with expertise and creativity. By implementing these strategies, organisations can position themselves as attractive employers in the energy sector and create a sustainable future for both the company and the planet.