No industry has had the same rate of acceleration over the last 10 years as the life science industry. And there is no doubt that the growth curve will continue if forecasts are to be believed.
The number of employees in the sector has increased by 23% from 2008 to 2021. At the same time, we are seeing an increasing demand for skilled labour. Especially in the specialist field. The result is a competitive recruitment environment we have not seen in the industry so far.
How to win the battle for talent
Download our white paper "The Battle for Talent" for concrete actions and solutions to meet the challenges the industry is facing today – and to succeed in one of the most competitive recruitment environments.

Key challenges within the industry

The life science industry in Denmark

Global trends affecting life science

10 actions to meet your recruitment challenges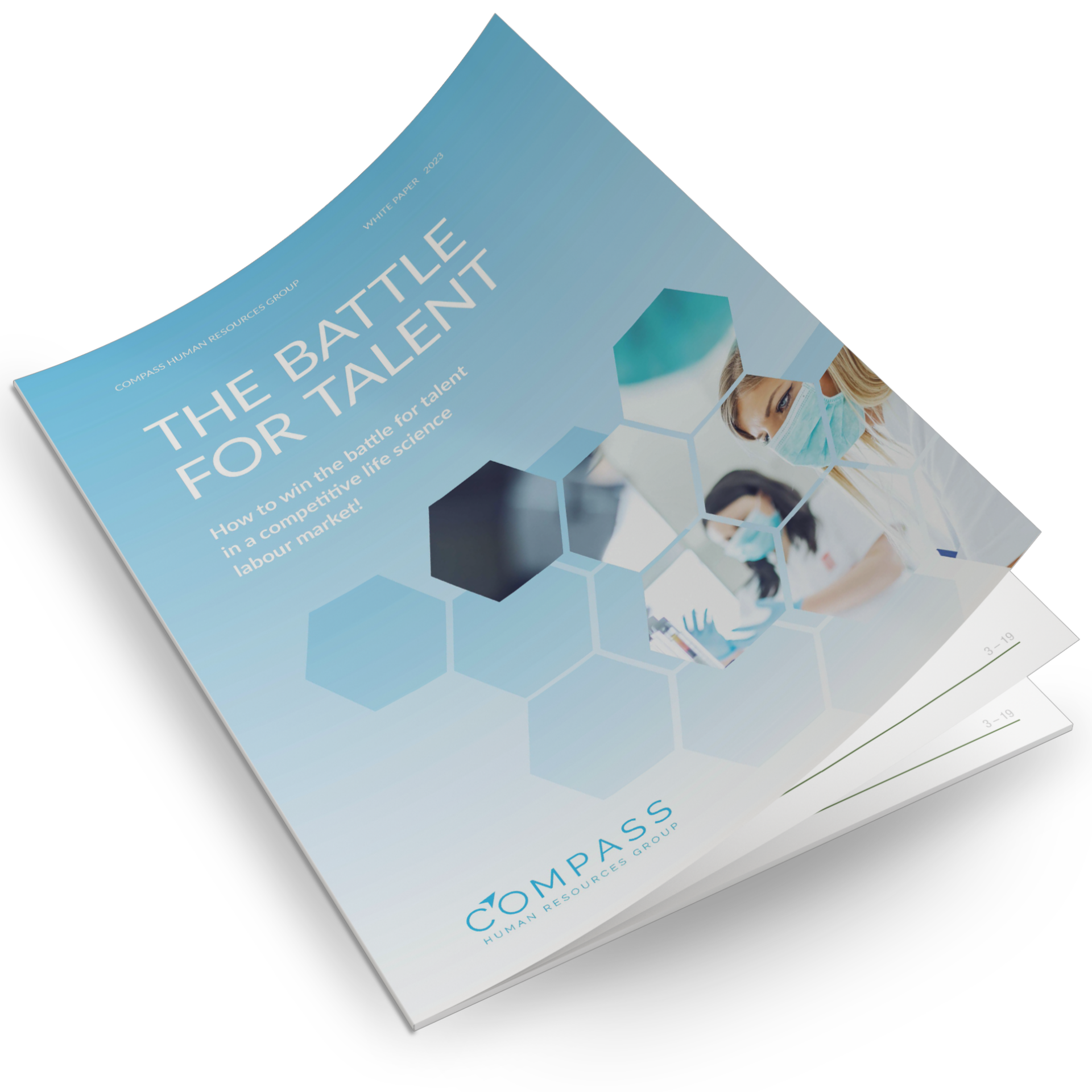 UNDERSTAND THE INDUSTRY AND WIN THE BATTLE FOR TALENT
In this white paper, we focus on the industry's key challenges from a recruitment perspective and present ten pointers on how companies can meet their recruitment needs in a highly competitive market.
Status of the life science industry
From 2010 to 2021, the industry's share of total Danish export of goods increased from 12% to 22%, while the number of employees increased by 23% in the same period. This has naturally led to an increased need for recruitment and is seen particularly in the demand for skilled labour in specialist areas.
Increased recruitment needs create competition
Already today, several companies are reporting challenges in meeting their recruitment needs. This puts companies in fierce competition with each other. The sought-after candidates are typically not actively seeking employment and therefore have additional requirements in terms of salary, responsibilities, expectations and development opportunities.
However, recruitment needs and challenges vary widely between start-ups, subsidiaries and larger established companies. Indeed, these companies are at different stages of development, which can give both opportunities and limitations in terms of employer branding and recruitment. It is therefore necessary to understand the many different actors that characterise the Danish life science landscape in order to be successful in recruitment.
Be aware of these as they can be actively used in employer branding and recruitment, but they can also be the cause of challenges in the battle for talent.
Global trends affect and challenge market conditions
In addition to the above local challenges, there are several global megatrends that also affect the conditions and market conditions in the life science industry. We can mention the rapid technological development and digitalisation, complex supply chains and increasing regulatory requirements, which also challenge life science companies.
A changing candidate market
Competition for skilled labour has created a labour-oriented market – especially for highly educated graduates. The transactional relationship between company and employee is thus changing and is becoming more reciprocal. We are increasingly seeing candidates who see a new and different space of opportunity when it comes to the demands and expectations of their future workplace.
The Corona crisis has also created new flows in the candidate market. In the last two years, many have found that a flexible working life creates a better work-life balance. With younger generations entering the labour market, there has been a further individualisation of graduate behaviour. Loyalty is not linked to the company, but rather to the individual career of each candidate.
Are you recruiting in life science?
With a life science team of +17 employees, experience in all parts of the value chain and insights into national and international market conditions, we can source the best candidates across local, regional and global positions.
Rasmus Meyhoff is Partner & Practice Lead at Compass Human Resources Group and has over 10 years of experience as a headhunter. He leads a team of +17 consultants specialising in recruitment in the Life Science & Healthcare industry.